100X
YOUR CHANCES
MANAGEMENT

CONSULTING
PUBLIC
POLICY
We're a social impact global organization with a mission to provide quality Business & Policy Education for an Inclusive world.
88%
Pivoted into Consulting,
Policy & Product
5500+
GGI Scholars &
Fellows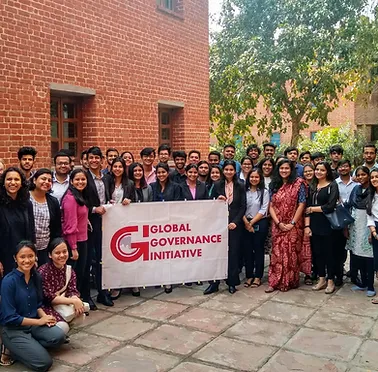 Hear what GGIians who have witnessed a +200% Increase in their Salary- have to say about us
Ansh Aggarwal
GGI Delegate, Policy Consulting Masterclass Cohort, 2019
Shri Ram College of Commerce (SRCC)
"Shortly after GGI, I got placed in McKinsey & Company. In fact, I will be moving to Mumbai to work as a Business Analyst. Also after the masterclass, having won the EY Scholarship for entrepreneurship, I completed an internship at EY as well.

Amongst all the sectors, I am especially excited to contribute to the public sector and private equity verticals at McKinsey. GGI's prestigious Policy Consulting Masterclass definitely helped me navigate through the recruitment process. :)"
+88% GGIians working in Top Consulting, Policy, Product Roles and Organizations
GGI Offers Live Upskilling, Employment & Networking
Find below specific programs within the fellowship and the 2 flagship Scholar tracks, to learn more about admission requirements, scholarships, and career opportunities and upskill on how to build a career in management consulting, product management, policy, finance, impact investing, or program management roles.
GGI MBA Scholar
Who is this program for?
1. You are looking for best Alternative to International- MBA
2. You are looking to pivot in strategy and consulting roles such as Mckinsey, BCG, or Product Management
3. You are a Pre-MBA looking to finish the business curriculum before your program
4. You are a budding entrepreneur who is aiming to launch & scale ventures
GGI Policy Scholar
Who is this program for?
1. You are looking for best Alternative to International- MPP
2. You are looking to pivot in impact firms such as UN, World Bank, FSG or social impact roles
3. You are a Pre-MPP with MPP admits to Harvard Kennedy, Oxford MPP, and other top MPPs
4. You are a budding social impact entrepreneur who is aiming to launch a venture
You Solve Cases & Network with World's Top CEOs, Partners in Consulting, Policy, Product Leaders
Ex Asia Chairman, Blackrock
Ex-Global CEO, Mckinsey & Co
Ex-BCG India Chairman & Member, Planning Commission India
Ex- Mckinsey Partner; Advisor, Pata
Managing Partner, Promethos Capital
Global Chairman, BCG Henderson Institute
President, Amazon AWS South Asia
Partner BCG, Social Impact Practice
BCG, Managing Director & Senior
Dean, IBGC Fletcher School of Law
Dean, IBGC Fletcher School of Law
Show more..
Many large employers find that Global Governance Initiative prepares Young Professionals not only for General Management Positions but also for jobs within governmental affairs, environmental affairs, other functional areas that necessitate an education that goes beyond traditional business skills.
Global Recognition Allows us to Serve you Better
"In Just 3 Years, This Disruptive Indian Pre-MBA Has Graduated, 5500 Alumni "
— Poets & Quants
"Shatakshi Sharma, a BCG Senior Associate, founded the Global Governance Initiative with the goal of providing education and career advancement opportunities for Indian youth "
— BCG Global Media
"Shatakshi Sharma, Cofounder, Global Governance Initiative recognized as Linkedin Top Voice, Next Gen for work on gender equality, higher education and management consulting."
— Linkedin News
"GGI has much in common with Ivy League institutions such as Stanford and Harvard"
— The Economic Times
"Shatakshi Sharma, GGI cofounder, is empowering global youth to start taking a seat on the table"
— World Economic Forum
You Learn live via Case method, Get Hired & Network to become a Leader in Business & Society
Harvard Case Method
Driven by experiential learning through real case based teaching and heavily interactive & live feedback based problem solving.
Office of Career Service
GGI facilitates your hiring by partnering with leading employment partners in consulting, & PM along with resume' and interview prep.
Become part of the Tribe
Masterclasses are designed to ensure your peer to peer-based learning; so that you grow by growing others.
Leading with Purpose
All GGI Masterclasses are curated with a sharp focus on responsible capitalism and ethics by involving leaders, not managers.
At GGI, We Believe In-Person Community is the CornerStone when You are Learning Online
Going through the program alongside a group of highly accomplished peers is the best way to achieve transformation. Our Alumni have an annual in-person get-together also.
We do not prefer a particular curriculum for undergraduate study for admission to the GGI Program. The Undergraduate representations come from IIT Bombay, IIT Madras, St. Stephen's College, NMIMS to IIM Ahmedabad, The Fletcher School. Yale University,
There are more than 100+ organizations represented in the cohort including Deloitte Consulting, EnY Consulting, Amazon AWS, Ministry of Finance, Bain Research, Goldman Sachs, Deutsche Bank, Schlumberger
Bhaskar Chakravorti
Mr. Bhaskar brings decades of experience having worked as former Partner- McKinsey & Co., Dean of Global business- The Fletcher School, Faculty- Harvard Business School, Advisor- World Economic Forum, UNDP, Brookings Institution, and MasterCard
Cofounder's Desk
GGI Co-Founders - Naman and Shatakshi have worked extensively at the intersection of public policy, technology, management consulting, & entrepreneurship at BCG, UN, Tony Blair Institute and have been recognized as Linkedin for Top Voice for work on gender equality and reimagining higher education. They would love to hear back from you on your experiences, grievances, and new ideas!
Frequently Asked Questions
Which program is the best fit for me?
How can I become a GGI Impact fellow?
What are the program fees?
Am I eligible for the GGI MBA, MPP or Fellowship Program?
What are the program reviews?
What are GGI Masterclasses?
What are the hiring opportunities via GGI Programs?